My pact with you, the reader
Who I am writing for and what my politics are
When you write for an audience—any audience—you make a pact with the reader. This is often an unwritten and unstated pact, and readers are usually unaware that it exists. Many times though, writers are unaware of this pact too. But it exists all the same. 
For example, if you've begun reading a mystery, then there's at least one murder that needs to be solved. You're expecting a certain tone or voice. If it's Agatha Christie, you're expecting an English village, a butler, and a fireside chat in the end when the murderer is unveiled and arrested. If it's a Jack Reacher novel, you're expecting a combination of intelligence, violence and old school justice. And so on. 
In non-fiction writing, including journalism, the pact is that the writer will tell the truth to the best of their ability and that they will try to leave aside their biases. Such a pact is usually taken for granted, both by the reader and writer. 
These days though, there's too much misinformation out there, and too little trust. Which is why I'm writing about my pact with you, the reader. Among other things, this involves at least these two aspects:
Who I'm writing for (my audience).

What my political beliefs are (so you can decide for yourself about my biases.) 
I should say here that these two issues arose because of a number of interactions with readers of this newsletter. I reproduce some of them below.
Who I'm writing for
After Issue #3 (how polarization and 'fake news' feed off each other) in which I cited Jonathan Haidt's work, Srujana Merugu, a machine learning and data science consultant wrote to me saying that it ended rather abruptly. She said,
"I just wished the article had included more empirical evidence and/or anecdotes to support Haidt's arguments (which I strongly agree with)."
Another reader, Vinod, left this comment on the site:
"After reading this, I feel as if you left the conversation mid way. You need to expand that argument you were building on the relationship between polarisation and fake news..."
After the last issue (what to do when you don't trust the media), Tanay Sukumar wrote:
I think your categorisation of the media and your portrayal of independent media was very simplistic. You might respond by saying that this was brief and you'll delve into more details later, but I felt it was so narrow that it's misleading for readers who truly want to understand and are trusting you. 
Tanay, who is himself a journalist, wanted me to say more about independent media; how they are prone to the same biases and ego-related issues that are a problem in other parts of the public sphere. I replied that I was going to devote a separate issue to it. 
To me, all of this ultimately leads to the question of who I'm writing for. So far on this email list, I've mostly got professional peers/friends or personal friends. Am I writing for the former, who are familiar with the information pollution problem and want depth? Or am I writing for the latter, many of whom are bankers, engineers, doctors, and senior citizens? 
The answer lies in the mission of this newsletter which is to help people navigate this era of polarization and information pollution/overload. This includes all categories of people but if there is a bias, then it is towards the aam aadmi, in so much as you can call an English-reading person that.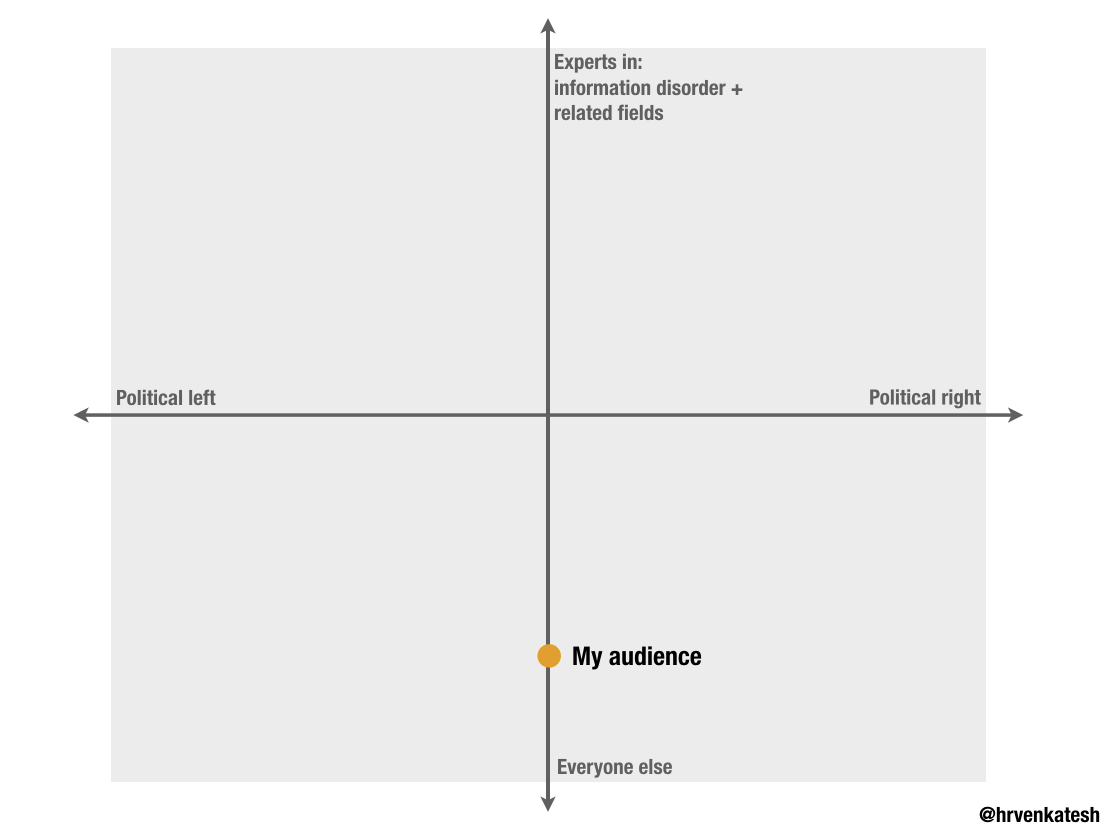 My political beliefs
Like all journalists, I want to assume a position of neutrality, but if I'm not careful, this can often lead to a condition called false balance (also called false equivalence). Here's what the sometimes maligned Wikipedia says:
False balance, also bothsidesism, is a media bias in which journalists present an issue as being more balanced between opposing viewpoints than the evidence supports. 
The New York Times in an article published just before Donald Trump won the 2016 election states:
The problem with false balance doctrine is that it masquerades as rational thinking. 
But journalists are also citizens and human beings and they too have political beliefs. Doesn't it make sense then for us to be open about our beliefs? Our readers are intelligent, so they will adjust for our own biases.
I have long believed this to be the case, but so far with Media Buddhi, I have been careful not to reveal my perspective. This is because we live in super-polarised times, and I don't want to alienate people who might listen to me otherwise.
However, when I spoke to my friend, the writer and musician Jayaprakash Satyamurthy, he had a different perspective.
I asked, "When you read my stuff, does it look like I'm trying to play both sides? Is there any perception of intellectual dishonesty?"
He replied,
"I have a tendency. When I read someone who's not clearly taking a reasonably partisan position but sort of trying to be a bit more balanced to say "oh you're a fence-sitter. Oh you're this. Oh you're that." So actually, I've been withholding judgement on your pieces because of this bias of mine."
And then,
"I actually value that kind of writing because I think ''oh you've put your cards on the table." But not everybody does. And that's why it's important for you to remember…you're not writing for the person who prefers an honest bias but someone who actually genuinely wants an impression that "here's a level-headed guy" who's not parroting any one party line to me."
Still, he said,
"I feel you can be a little more upfront about putting your cards on the table. See how it works. You're not swearing allegiance to Das Kapital. You're just saying you're more humanistic. You care about the human and ethical side of things. I think, yeah, you can be a little more upfront on this. I think you're sort of eliding the fact that you have a perspective sometimes. But you knew that, right?
(It's generally fun to quote Jayaprakash in detail on anything because he's the sort of person who speaks in full paragraphs and with perfectly formed sentences.)
I've decided his argument has merit. If I am upfront about my perspective, then even those who're not like me can decide how much they agree with me.
So here are some of my political beliefs, in no order of merit.
I believe all human rights to be inviolable, and I favour policies that take this into consideration.

I believe animal rights should be taken more seriously. Some day, I want to stop eating dairy (I'm already vegetarian) but I support a person's right to eat whatever they want to eat.

I believe economic growth will bring about benefits like nothing else can, and I favour policies that take this into consideration. However, I don't believe in the kind of breakneck economic growth which causes steep inequalities, environmental destruction and loss of leisure time. (The economist Tyler Cowen calls this approach Wealth Plus.)

I believe in free speech and a free media, but I don't like policies that help hate speech to flourish.

I believe most privileges are invisible and I favour policies that try to even the playing the field.

I believe in the independence of institutions.

I believe in dialogue and in reclaiming conversation.
I don't believe people should be categorised as left or right, as liberal or conservative. These, to me, are false binaries because they tend to obscure more than they reveal. I've also decided that I will also treat you, the reader, as individuals who take 'left' and 'right' positions as and when you feel it necessary.
With that done, I'll resume regular programming next week onwards. Coming up: how to think about television news, how to think about implicit bias in the media, and much, much more.
As always I look forward to your comments, thoughts, questions and hellos.